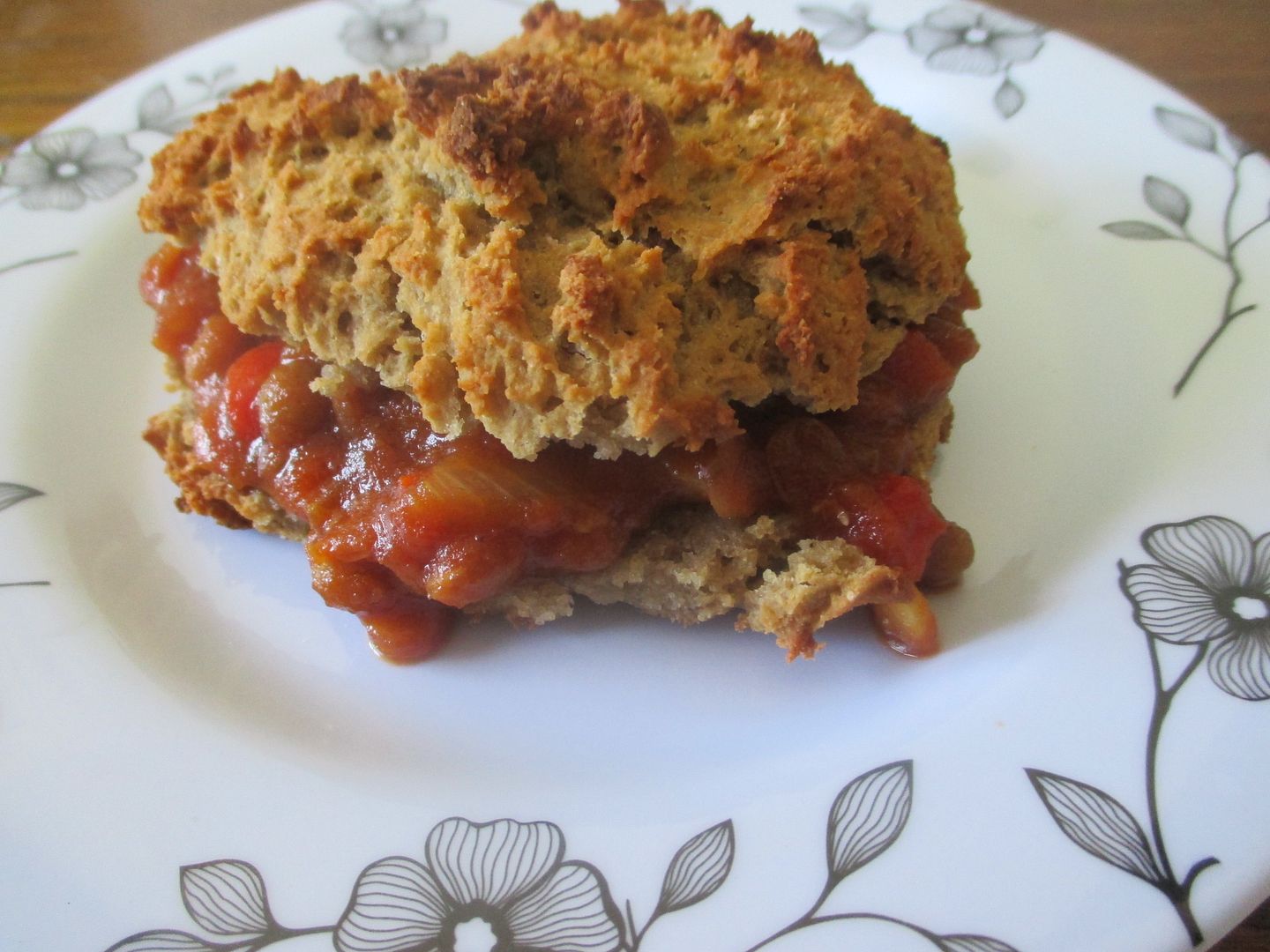 We never had sloppy joes growing up at home. We just had them in our school lunches. A few years back on my blog, I mentioned how I must be one of the few people in the world that actually have fond memories of their school lunches, but I do. I always enjoyed the sloppy joes when they served them, despite their being super messy to eat.
So of course, when I found out there was a vegan version of sloppy joes, called sloppy sams, which are made with lentils, I needed to try it out- since I'm a big fan of making lentil alternatives of meat dishes I love, because that's a perfect way to get my kids to eat lentils. And it's no surprise that I found that sloppy sams are a terrific way to use lentils- and fortunately my kids like them too, since they're sweet and sour and just generally yummy. Not to mention messy, and kids like messy foods, or at least mine do.
I serve my sloppy sams on
homemade gluten free bread
, but feel free to serve them on any homemade (or even store bought) rolls... or if you don't care, you can even use this as a sauce for rice or pasta or mashed potatoes.
While I use celery and peppers in this recipe, feel free to use whatever vegetables you have lying around your house. The most important thing in this recipe is the sauce, not the specific veggies used.
And, of course, if your family won't eat lentils, feel free to replace the cooked lentils with browned ground beef or chicken or turkey in this recipe. Or stretch the meat by doing it half/half with lentils.
Sloppy Sams Recipe- Vegan Sloppy Joes, Refined Sugar Free
Ingredients
:
1 tablespoon oil
1 large onion
3 cloves garlic
1/3 cup chopped celery- leaves and stalk
3 red peppers
3 cups cooked red or green lentils
2 cups veggie broth
2 tablespoons molasses
2 tablespoons vinegar (apple cider vinegar or white vinegar)
6 tablespoons date syrup, or 3-5 tablespoons honey or sugar (or to taste)
2 teaspoons dijon mustard
2 tablespoons soy sauce
1/4 teaspoon cumin
1/4 teaspoon allspice
1/4 teaspoon cinnamon
Instructions
:
1. Saute the onions and garlic in the oil.
2. Chop your veggies and add them to the onions and garlic. Saute until soft.
3. Add everything else.
4. Cook for 15-20 minutes, covered, on low heat, mixing occasionally, until the flavors meld.
5. Serve hot!
Enjoy!
Do you have fond or terrible memories of school lunches from growing up? Did you eat sloppy joes growing up, either in school or at home? Do you serve it to your family? Does this vegan version of sloppy sams seem like something you'll try out and that your family would enjoy?