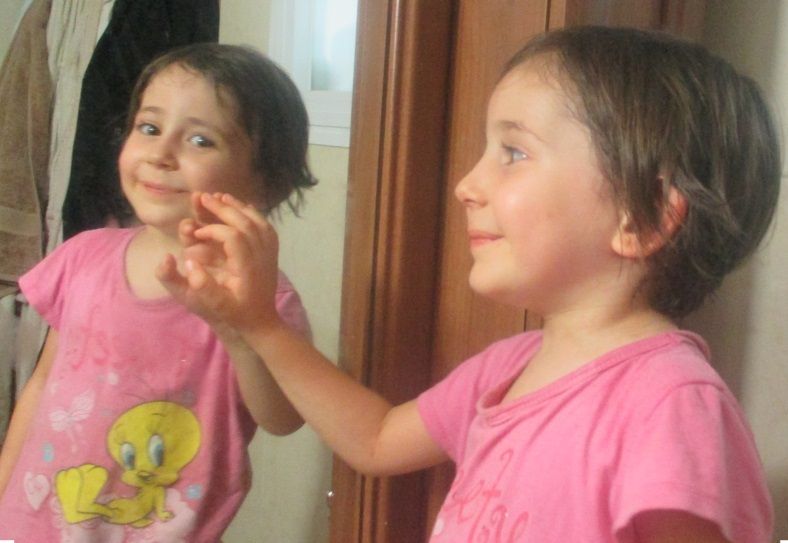 Before I became a mom, I had all sorts of ideas of what parenting would be like, and even made a whole long list of things I'd want to do with my daughters, and another list of things I'd want to do with my sons.
Fast forward 8 years, and very few things of what I do are what I expected I'd be doing. For one, I'd always expected to have my daughters have long hair, which I'd style each morning. For another, I never expected that I'd be an unschooler, who doesn't just follow unschooling tenets for educating, but also sometimes when it comes to child rearing (often referred to as radical unschooling or whole life unschooling). We're definitely not complete radical unschoolers, but I do pick and choose certain things from the philosophy that make sense to me, and jive with my parenting style.
One of the big rules of radical unschooling is body autonomy, respecting your child's body, and letting them choose what they want to do with it, so long as they aren't hurting anyone else or themselves, and so long as it doesnt affect their health/hygiene. This makes sense to me. This, therefore, includes whatever hairstyles they want to have, even if it isn't the type of hairstyle you'd want your kids to have.
I've heard of parents that will not let their kids cut their hair. I don't think that is fair. It's the kids' hair, and the kids who needs to sit through the brushing, washing, styling of their hair, and for the parent to not let their kid cut it, simply because the parents can't bear to part with their kids hair- just doesn't seem right to me, and it seems that it isn't respecting the kid's feelings enough. Respecting a kid's body and choice over his own body is an important step in kids learning to take responsibility for their own body, respect their body, and not anyone take advantage of their body. Not guaranteed, but it certainly plays a part.
I'm also very into treating my kids the way I would want to be treated, and not deciding that the rule of "treat others how you want to be treated" doesn't apply to my kids. I can just imagine how I'd feel if I'd want to have my hair a certain style, and be told that I couldn't have that style because someone else doesn't want me to. I mean, excuse me- my hair, my choice.
So anyhow, why am I going into this?
Well, Anneliese, my 3.5 year old, has been asking me to give her a haircut for a while already.
Every single time she sees me cut her brothers' hair, she's asked me to cut her hair. Sometimes I oblige and give her a little trim.
But she has been getting upset at this.
She wants short hair, she says. Like her brothers.