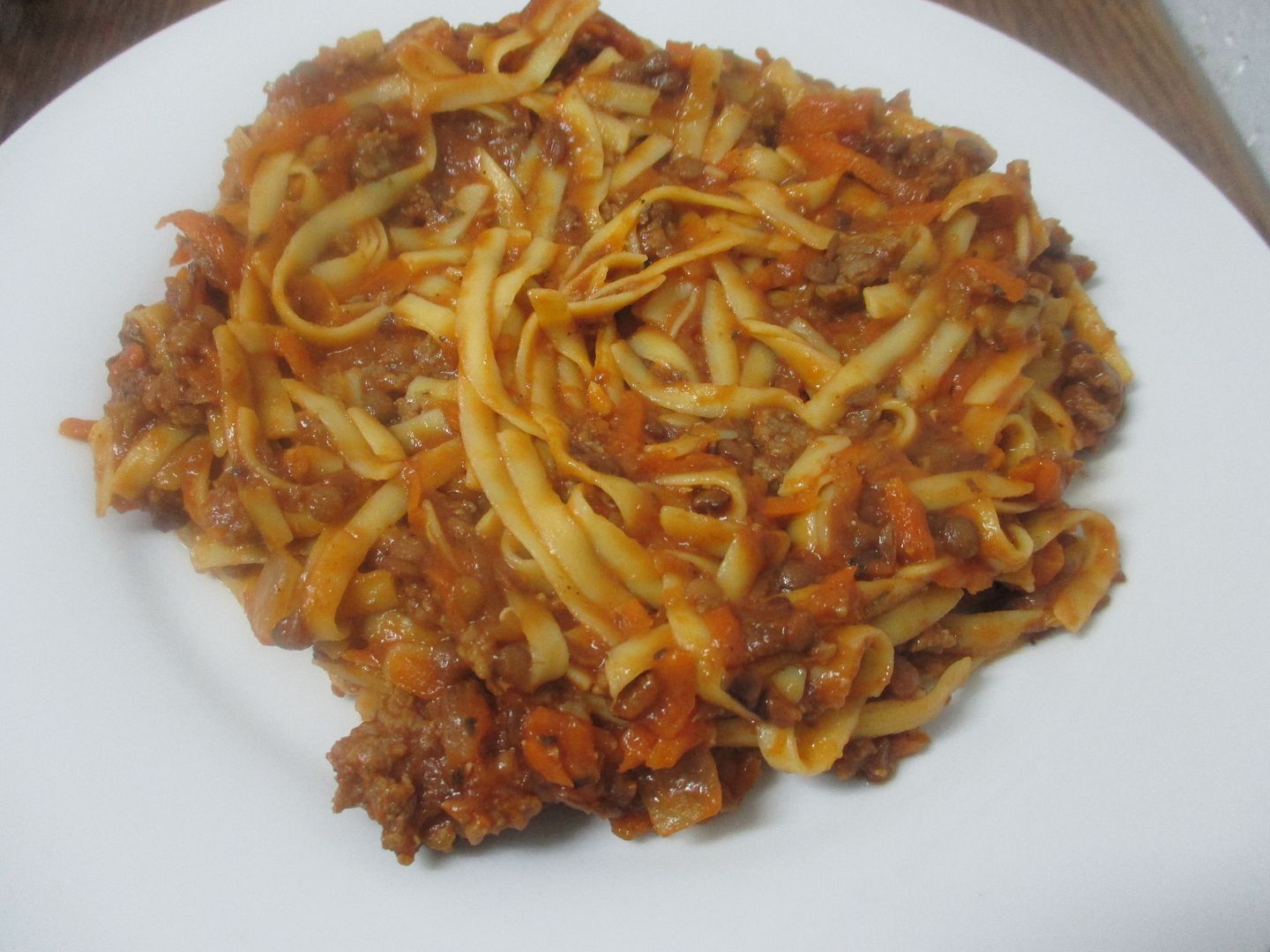 Lentil beef bolognese
I used to be able to say that my kids were not picky and would eat anything I put in front of them. That really helped financially, because I could make what my finances allowed, and all would be well and good.
Well, yea. All good things come to an end. My kids definitely developed their food preferences and let me know, sometimes quite vocally, that they "hate that food" and "never ever make that again, Mommy!"
Too many times, supper was a battle, my making a food and the kids flat out refusing to eat it, and my getting frustrated, and sometimes making a second supper, one they'd be willing to actually eat... 
Endless frustration.
My older son, Lee, drew me a picture the other day of the foods he was "always willing to eat" and "whenever you don't know what to serve us, just make us that, Mommy!" It was mashed potatoes, hot dogs, and scrambled eggs.
I don't know about the prices where you live, but I can't afford to feed my family mashed potatoes, hot dogs, and scrambled eggs daily, or even every other day. Eggs and hot dogs are expensive here... and hot dogs not exactly prime nutrition. I buy hot dogs that aren't filled with all sorts of garbage, but they still are far from a health food.
I want my kids to be healthy. I want them to have good nutrition. And I don't want our grocery bills to be sky high because of their being picky.
So- how do you balance frugality, healthy eating, and kids who are picky about what they want to eat and what they won't?
Keep in mind that my kids are now just garden variety picky, not super picky eaters who would rather starve than eat anything other than the 10 foods they are willing to eat. And its not sensory issues with them, just a matter of personal preference... This won't apply to kids who have real eating issues, just the average kid who "doesn't like that"....